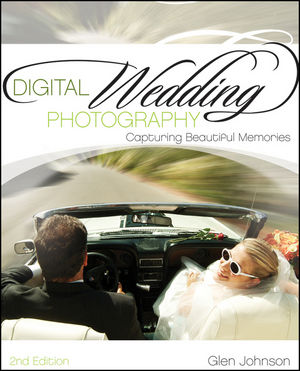 Digital Wedding Photography: Capturing Beautiful Memories
by Glen Johnson
Wiley Publishing Inc.
2011


With such a wide selection of wedding photography books currently available, it's always a good sign when there is something new learned within the first few minutes of opening a book. After all, the point of reading these books is to learn. Such was the case when first opening Glen Johnson's Digital Wedding Photography in it's early discussion of business models.
This 2011 release, published by Wiley, contains three parts: Understanding Digital Wedding Photography, Wedding Photography Techniques and Concepts, and The Business of Digital Wedding Photography.
Part one covers the typical "what" kinds of topics including equipment and camera settings. Part two covers the typs of shots to look for and special considerations for different locations and parts of the the event. Much of this information is of the fairly common "what to shoot, how to shoot it, and what to use while shooting it" variety." Additionally, much of this type of information is also available from a wide variety of sources. The difference here being the source of the information and the individual style of its presenter.
Where this book begins to set itself apart is in the business and marketing section, part three, particularly where it is discussed how and where to find clients. Much of the business section is devoted still to the working aspect: Workspace, workflow, image manipulation, finished products. There is even an in-depth chapter devoted to websites. In this regard it isn't much different, so far, from a general digital photography book.
However, in Chapter 17,
Cracking the Secret Code: Breaking into the Business,
things start to get very interesting. There are all the usual suspects in terms of marketing suggestions, but contained in this chapter are also some tips and pointers, from a voice of vast experience, that are unique to the particular business of wedding photography. In this chapter, the author seems to go beyond where most discussions on marketing photography typically go, with some "tricks of the trade" that may not be immediately thought of by someone just starting out. A large part of the information is geared toward photographers that are somewhat new to the business. As a sign of the current times, there is even attention given to economic conditions, both of a larger sense, and of the particular market a photographer may be catering to. Interviewing and sales tips are provided, including help on what to bring to interviews, setting them up, how to talk to potential clients, and very importantly, how to close a deal.
Overall, there is a large amount of valuable information in this section that can be of benefit to nearly any photographer regardless of experience. If the reader is looking for some good how-to photography information that is not only geared toward shooting weddings, but more widely applicable, as well as the business end of wedding photography in a single volume, this title would be a good choice.