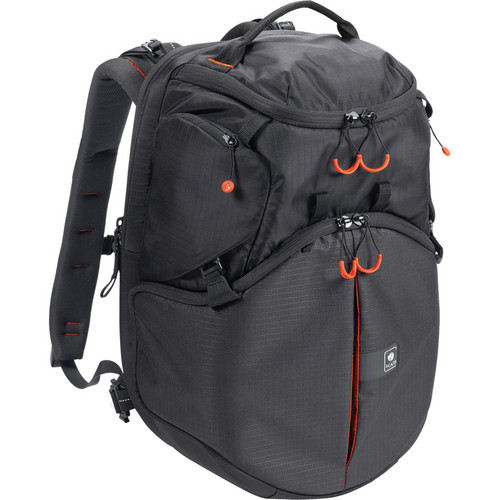 With the 3n1 series, Kata created a new paradigm for camera backpack/slingpacks. And now with the RedDot Design Award winning Revolver they have done it again. Kata is well-known for their top-quality products, with outstanding protection of expensive equipment using ultra lightweight materials. Their newest offering, the Revolver 8-PL, Kata has given photographers the comfort of a backpack, with the ease of access of a sling.
This bag has it all. No really. It does. Every problem I can think of with carrying gear in a backpack is solved. It has the two-shoulder weight distribution of a backpack with the accessibility convenience of a sling. The wonderfully nifty revolving compartment (which revolves quite easily) gives easy access to gear regardless of which side you open it from. (pro-tip - evenly distribute the load for ease of turning). It holds enough gear for a professional level shooter's needs but works wonderfully for the casual shooter as well (additional lens slots can be used for snacks and whatnot while the stretchy strap holds them neatly in place).
According to the literature, the bag specifics are as follows: Maximum weight with all accessories is 3.64 lbs (1.65 kg), it fits a DSLR with grip and standard lens attached, with an additional 4-5 lenses and accessories, gear, and a laptop up to 15.4". It can carry a tripod on the front with straps provided, and is compatible with the Kata camera straps, taking the weight of the camera off the user's neck. The back of the bag has a trolly strap to fit any standard trolly and the bag comes with Kata's two-sided elements cover (silver/grey for sun and black for rain).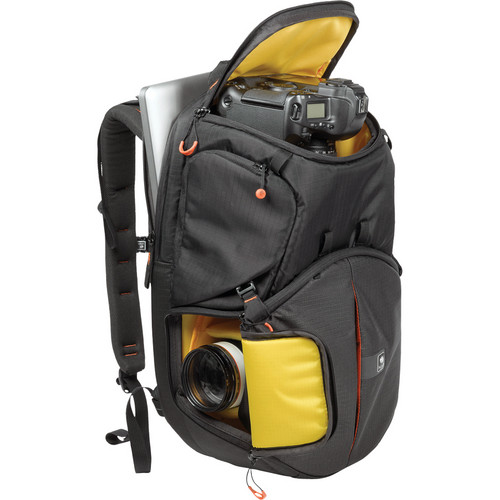 There are two accessory pockets on the sides of the upper portion, and one on the top lid of the upper portion.
The Revolver 8-PL is part of the EPS system of bags and gear and can be combined with other EPS system bags to widen and diversify gear-carrying options.
After spending some quality time with this bag, which included a 10 mile hike up a small mountain that included much scrambling over large boulders in the Appalachians, some hands-on observations were made.
Fitting: The size of this bag is perfect. It is large enough to hold enough gear for most shooting scenarios, yet compact enough to not overwhelm even smaller sized humans (t was carried by myself, an average smallish female, a 6-ft male, and a 5-ft 12-year-old male). The shoulder straps on the pack are fabric covered, very comfortable, and do not slip. They not only adjust at the bottom, but also at the top for a customized fit. The waist strap provides enough support and stability to remove some of the weight from the shoulders.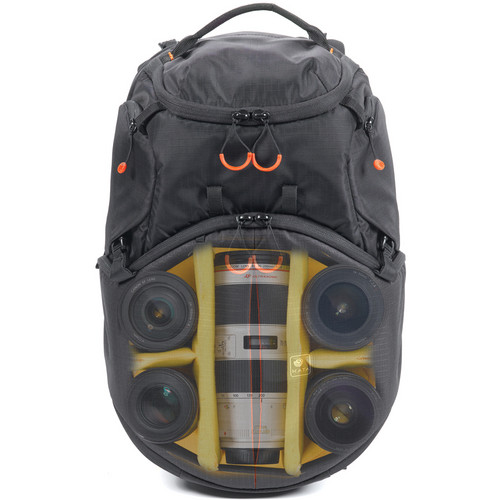 Best of all, the sternum strap has four positions available for adjustment up and down the shoulder straps. What this means is that half the population can avoid an *ahem* awkward placement of the sternum strap by adjusting it to a more, er, "comfortable" position. Bravo to Kata for giving this strap plenty of adjustment options.
Overall, even fully-loaded, the bag was a comfortable carry with a good weight distribution. It is probably the most comfortable backpack I've worn.
Gear: officially the revolver portion holds up to five lenses. It you use the center portion for a lens smaller than a 70-200, there is a padded divider that can be placed in there and you can add another small lens, or other like-sized accessories to that count. Placing a 50-135/2.8 in that slot, with the padded divider, I was able to place a flash in the space created opposite.
The top portion of the bag can hold a full sized body with grip, with a smaller lens attached (16-50/2.8 was used in testing). Because I like to push bags somewhat to their limits, I was also able to fit in a flash if the flash head was bent and turned to avoid stressing the zipper. Alternatively, if I removed the lenses. I was able to fit in two of the smaller-sized Pentax K-7/K-5 bodies with grip, and the flash, again bent to accommodate it in the space allowed. Please note, this is NOT the recommended way to use the bag according to the manufacturer, but rather an attempt to see what I could really fit in there with some finagling.
The laptop compartment, though stated to hold a 15.4' laptop, was able to squeeze in a 17" laptop. It was a tight fit with some zipper strain but it worked. Between the body of the bag, and the back padding, is an open area as well. There is no closure and it is not an area designed for storage, however, the bottom of this space is closed and it has been discovered to be a handy spot to stash papers, maps, and other like items that do not really have another good place to go.
Accessibility: All gear in the revolving compartment is accessible without removing the bag, and from either side. The compartment fully unzips, or can be partially unzipped on the sides only, leaving the rest closed. The zipper pulls have the parachute loops featured on the Kata line and there are two buckles on the front/sides to further secure this compartment.
Additionally, the zipper loops can be threaded through one of the buckles to further secure the lens compartment from accidental unzipping.
While field-testing, this compartment was very easy to use, even while walking. With proper care it was not even necessary to stop walking to access the revolver and swap out lenses. Again, balancing the load in this portion with allow the lens holder to revolve with greater ease.
The pockets on the upper sides are deceptively deep. Using these to their fullest capacity will decrease some of the space inside the upper portion of the bag but the space is useful for a variety of necessities. Even with one of the side pockets occupied by the raincover and tripod straps, there is still plenty of external storage for non-camera and -lens necessities.
A few closing notes. The bottom of the bag is round, not flat. It will not stand up on it's end. This did not prove to be an issue as I usually would lay it on it's side to pack and unpack anyway. Also I've experienced some issues with wider-sized lens hoods fitting in the revolving portion. With a little fiddling, however, there is so much room in this bag, a fitting solution can almost always be found.
Overall, I cannot say enough good things about this bag. It holds an astonishing amount of gear, extremely easy to access, even while on the move, and has solved the fitting issues I have found with previously tested backpacks (meaning you don't have to be a 6-10 former linebacker to comfortably carry it fully loaded).
The Kata Revolver 8-PL is highly recommended. And with the renown Kata quality of construction, it is a sound investment that will last years.
More information on Kata products can be found at http://www.kata-bags.us/
The Kata Revolver 8-PL can be purchased through Amazon at
http://www.amazon.com/Kata-KT-PL-R-8-Backpack-Black/dp/B008TNX7I2/ref=sr_1_1?ie=UTF8&qid=1353862684&sr=8-1&keywords=kata+revolver
All images are either courtesy Kata/B&H Photo and Video, or copyright Melanie Beus.
Unit used for review was provided courtesty Kata.